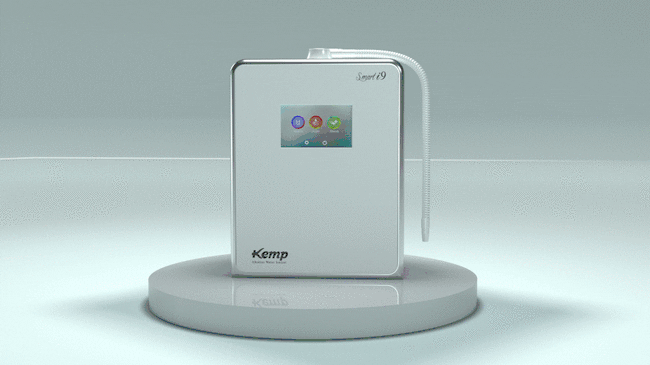 Korea FDA No. 18-4583
Medical Device Certification ISO – 13485

Alkaline Ionized & Hydrogen Water Ionizer
NOW $3488 W/GST
Retail Price $4288 W/GST
Your health starts now with KempSmart i9
Boost your metabolism by eliminating acids and toxins to energize your body
Uses for the different levels of alkaline ionized & hydrogen water
Uses for the different levels of acidic water

Enjoy these benefits with
Alkaline Ionized & Hydrogen Water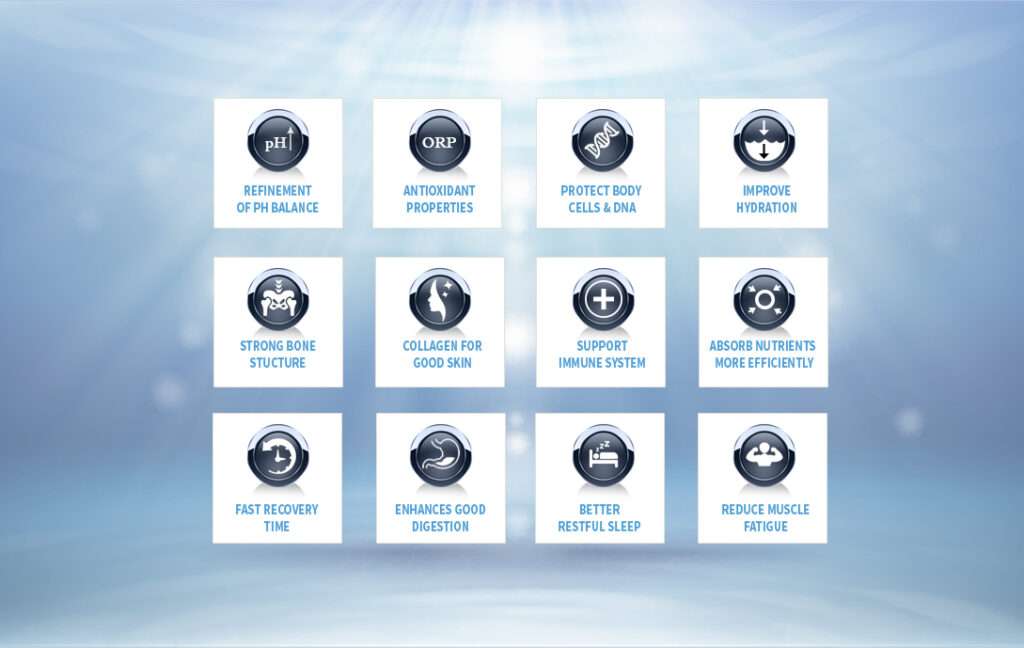 Korea FDA No. 18-4583
Medical Device Certification ISO – 13485

2-in-1 filtration and ionizer

Ionized alkaline & hydrogen water
9 Newtec Platinum-Titanium electrode plates (made in Japan)

Tested by PSB TUV Singapore, rust-free guaranteed. 

Patented SmartClean DARC, an automatic watercell cleaning system
10 levels of filtration up to 0.01 micron and KDF55 to remove dissolved heavy metals and THM (cancerous trichloromethane)
9 levels of water with different pH selection
Touch screen & interactive technology
Built-in safe features with auto shut off system
Dimensions    : 27cm (L) x 15cm (W) x 37cm (H)
Weight             : 6.5kg
Input Voltage : 240V
LATEST

Smart


Alkaline Ionized & Hydrogen Water Ionizer!
KempSmart i9 water ionizer is specifically designed for homes in South East Asia in particular, Singapore homes. What sets us apart from competitors are our smart features and smart technology. KempSmart i series is an upgraded version to the well-received and proven JUPITER water ionizers.
KempSmart i9 Alkaline Ionized & Hydrogen Water Ionizer is equipped with NewTec water cells that generate millions of nano-minerals and nano-hydrides to give you a constant supply of antioxidants!
The KempSmart i7 and i9 water ionizer are probably the first in the industry to achieve superior hydrogen rich water !
Rust-Free Electrode Plate – Tested by PSB TUV Singapore 
All Kemp water cell plates have always been, and will always be rust free guaranteed. Kemp Singapore water cell plates are certified 100% titanium coated with platinum to ensure ionization performance and will never rust. That's why our water cell plates are guaranteed for life not to rust.
The quest of KempSmart i9 alkaline ionized & hydrogen water ionizer
is to obtain refinement of pH, -ORP and activated hydrogen water!

Industry First Smart Technology
We are proud to introduce the KempSmart i series, Singapore's first SMART Alkaline Ionized & Hydrogen Water Ionizer. Utilizing SMART Technology
and the latest NewTec watercell, KempSmart i provides you and your family life-giving water rich in antioxidants and activated hydrogen.
Filter Components and WaterCell
Kemp Singapore Pte Ltd since its inception in 1988 has provided quality water ionizers for its customers. Comprising of a superior water filter system and state of the art ionization technology, Kemp's water ionizers have been known to last for years.
Its water filter system incorporates calcium minerals to neutralise chemicals and increase mineral content, and its advanced space fibre filter materials for a 0.01M ultrafine filtration that keeps even bacteria out from your drinking water!
KDF 55 ultrafine 0.01 micron filter Designed specifically for removing chlorine and water soluble heavy metals such as lead, mercury, nickel, chromium, and other dissolved heavy metals. It controls scale, bacteria and algae, even with hot water.
Certified by:
NSF / ANSI Standard 42 Compliance with California and Safety Code Section 166875
Mesh Plate Technology The ionization component consists of plates that are optimised to a square area of 10 square inches per side of a plate. The base metal is titanium, known for its toughness and 0.57 micron thickness of platinum is coated on top of that. This standard is further backed up through its ISO and GMP standards to ensure that top notch ionization quality is provided to our customers.
Tested by Singapore Test Lab
KempSmart i9 watercell plates are tested and certified by TUV PSB Singapore. Certified titanium-platinum plates.
Certification
Korea FDA No. 15-927.
Medical Device Certification ISO-13485.
2-in-1 Filtration & Ionizer